PLEASE NOTE: We have just looked at the posts on a phone and realised that some of the photos are better viewed on a computer
Thursday 20th October – 10:00pm
Despite the heavy rain this morning, we really have had another fantastic day. Giant Swing was certainly a highlight for many and abseiling really did test the children's nerves and determination. Our favourite quote of the day was from two children about face the swing: 'One small step for PGL, one giant leap for both of us'. This pretty much sums up what children have got from the week – they have taken so many 'giant leaps' and these have been different for every child. There have been so many very, very proud moments including when an instructor commented that our children were the best behaved group she had EVER had.
Buggy building proved to be a very muddy experience – our children fully embraced this and many returned covered from head to toe. They loved every minute!
This evening, they played a crazy game called 'splash' before returning to bed tired but happy.
This will be our final website post as tomorrow morning will be far too busy packing.
If your child isn't too tired to talk on their return, then they will certainly have many stories to tell.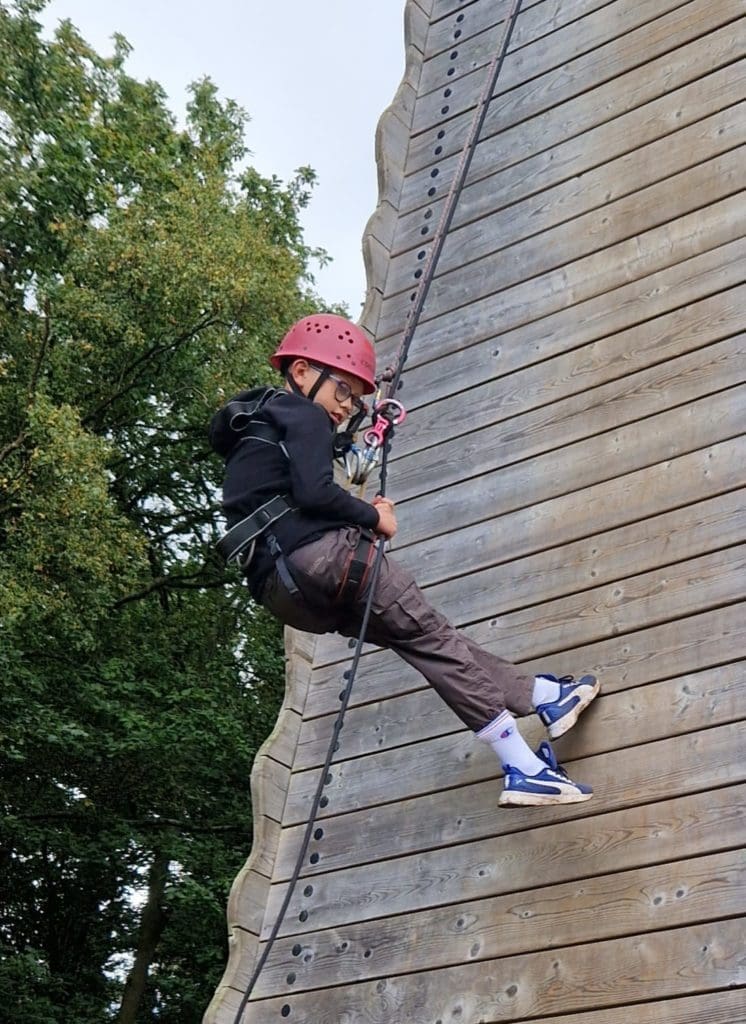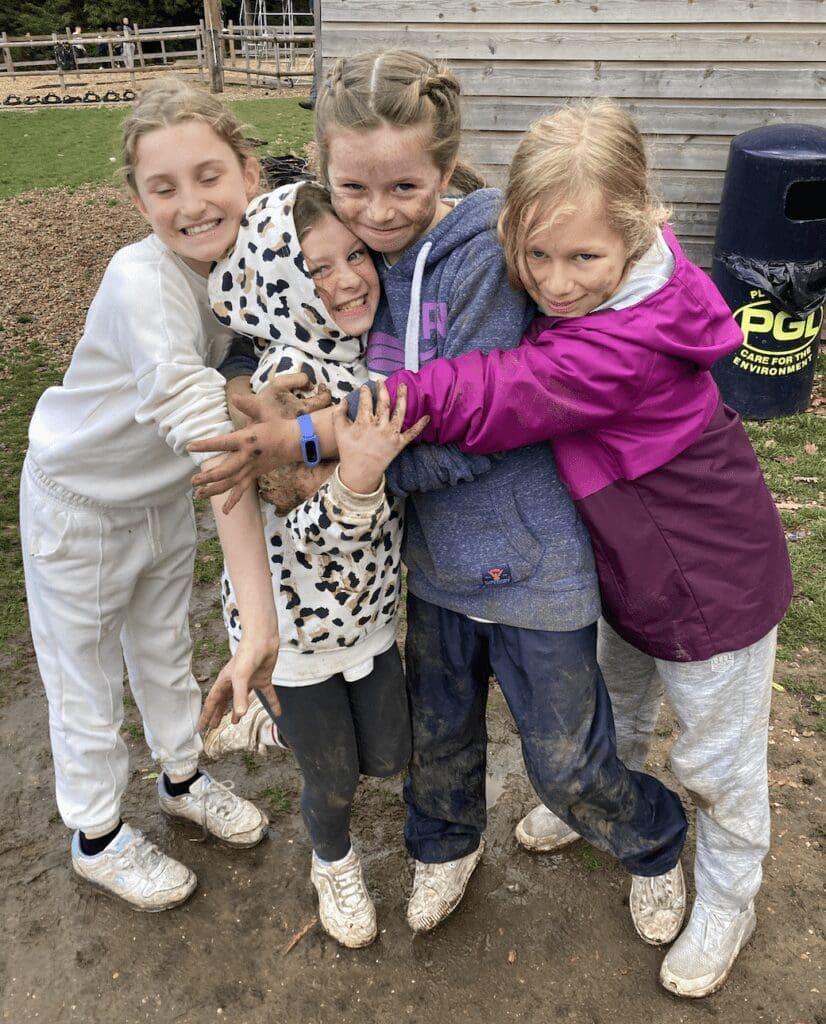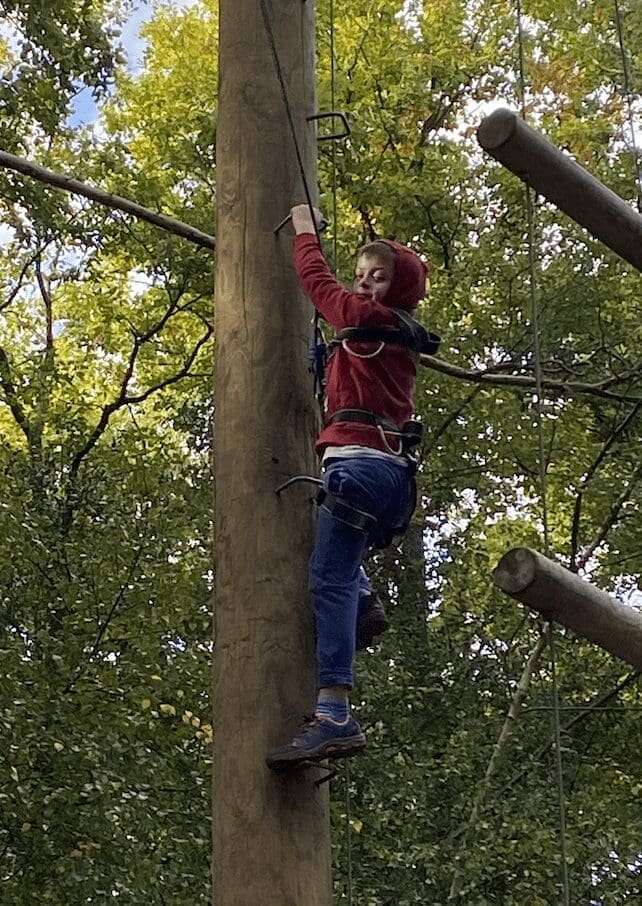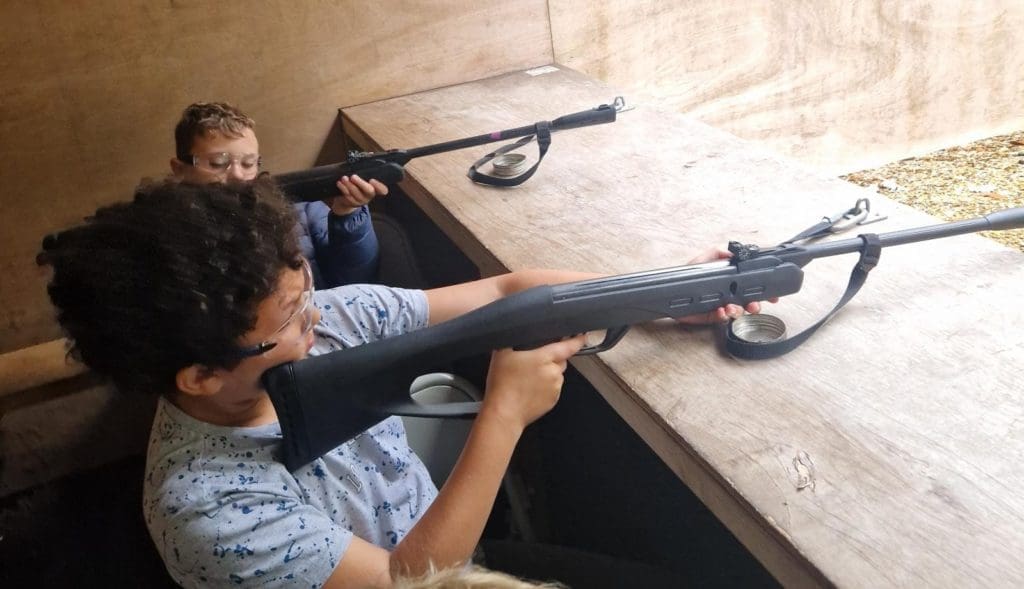 Thursday 20th October – 6:05am
How did that happen? It really is hard to believe that we will be heading home tomorrow! The week has simply flown by. Another quiet night – the children were out playing 'Passport to the World' until almost 9pm last night. They settled to bed quicker than ever and all has been silent since.
Today, our activities include: Trapeze, Giant Swing, Rifle Shooting, Tunnel Trail, Abseiling, Buggy Building and Orienteering. This evening, the children will begin to pack their bags ready for tomorrow morning as we will have to be out of our rooms, packed up and ready to go before the morning activities. They will come home with so many stories to tell, a case full of dirty washing and, most importantly, some very special memories which will stay with them forever.
Wednesday 19th October – 10:30pm
Well, today has certainly been a day full of children striving to achieve personal goals and pushing themselves beyond their comfort zones. They have learnt that anything is possible provided we believe in ourselves and to set themselves ambitious targets. The adults have literally had tears in their eyes on several occasions; these special moments are exactly why trips such as these are so important.
Two groups enjoyed raft building this morning. For some, the challenge was to actually get onto the raft. For others, it was jumping (or falling) off the raft. Harrison was one of the star achievers on the raft – it was wonderful to his smiling face as his team paddled around the lake. Some children spent more time in the water than they did on the raft. In fact, one whole group ended up jumping off the raft which then began to float away! Their smiles and laughter were an absolute delight.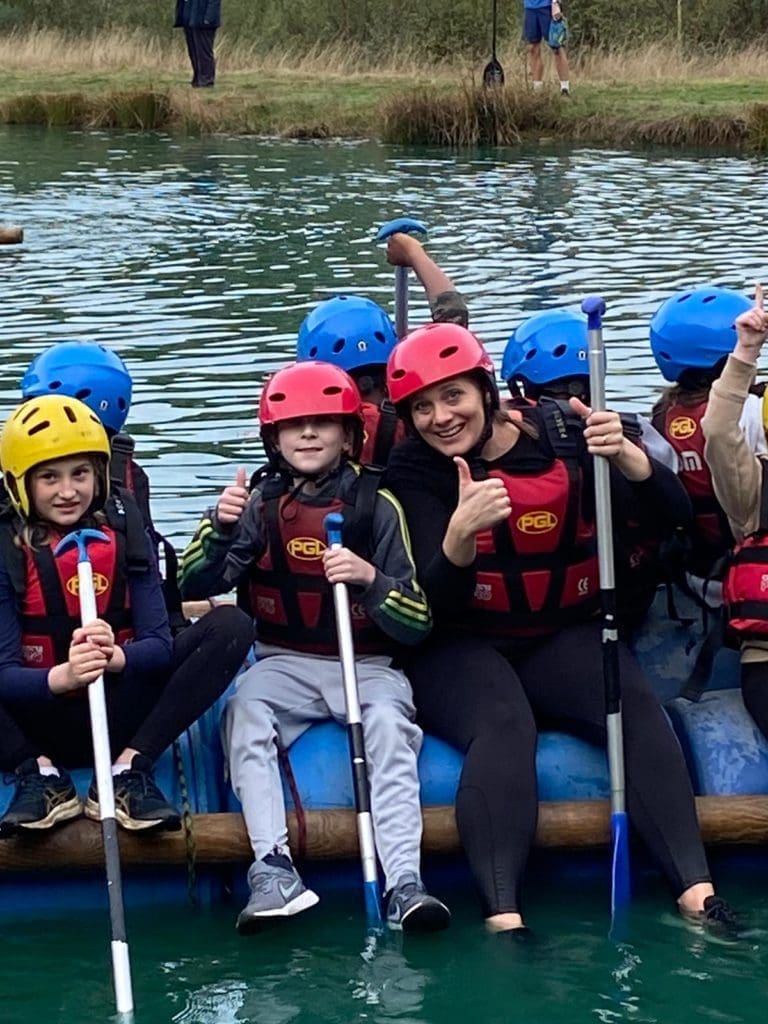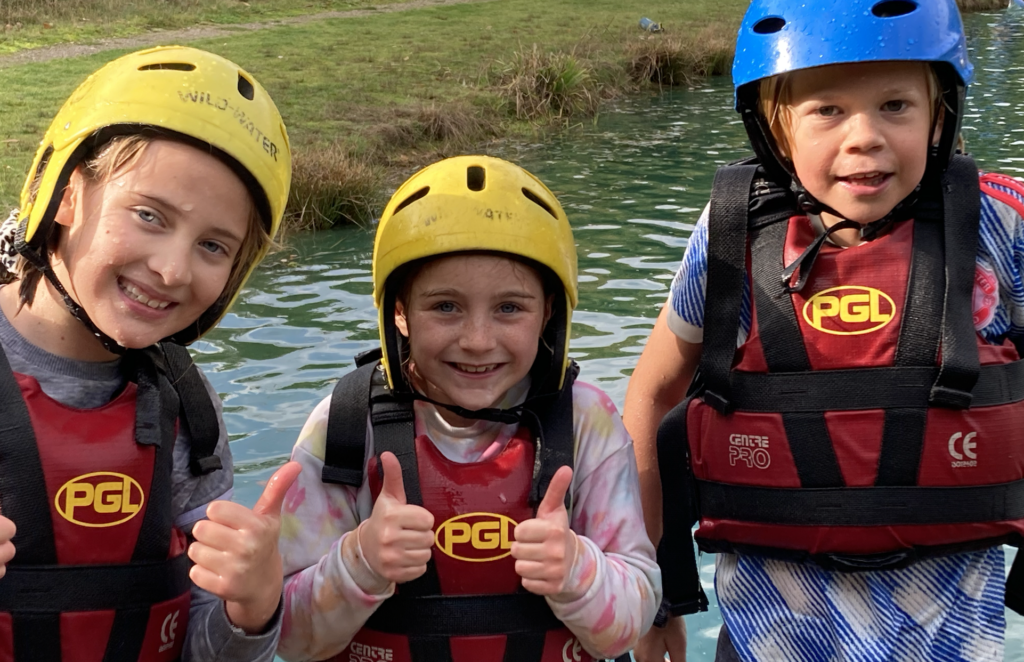 Perhaps one of the most emotional activities was the terrifying trapeze. There is no doubt that anyone brave enough to give this a go deserves a medal! Finley showed such determination in order to get half way up the pole on his first attempt. We blown away when he then took up the opportunity of a second go and this time conquered his fears and made it to the very top. He jumped off to an eruption of cheers (and tears – from the adults). The smile on his face said it all. Another special mention goes to Paris who, despite her nerves, made it up the pole in record time. It wasn't until her feet hit the ground that she realised just what she achieved.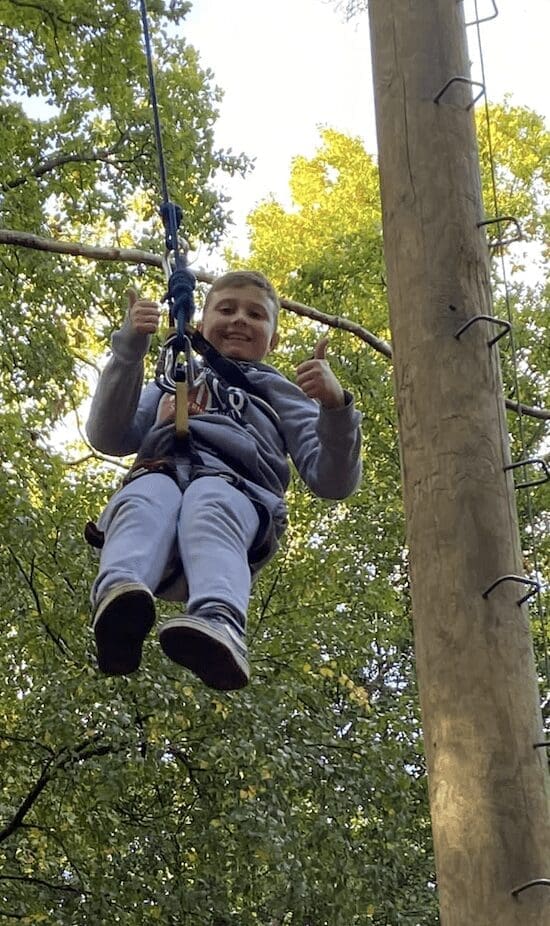 It was on Jacobs Ladder that Muctarr absolutely shone. Teamwork is essential to be successful in this challenge; Muctarr showed fantastic leadership in supporting his team to progress up the ladder. Sophie's resilience shone through on this challenge; despite her obvious fear she was unstoppable and just kept on climbing. Another shout out should go to Miss Pear who enabled children in her team to head to the heights by climbing alongside them.
Sensory trail is another interesting and very different kind of challenge. The children have their sense of sight removed and therefore have to rely upon their ability to give and listen to precise instructions and to locate sound precisely whilst also using their sense of touch. Aiden excelled himself and clearly enjoyed these challenges. Joshua proved himself to be a great communicator in aiding his team around the trail.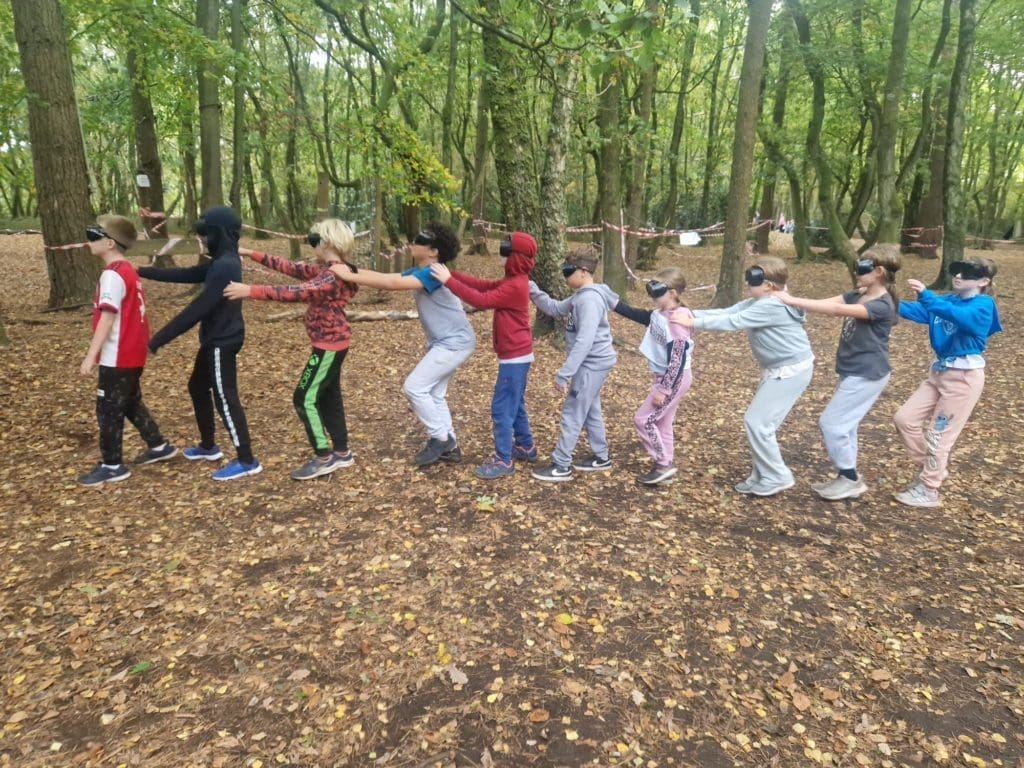 It seems that Archie and Isadora are naturals with a bow and arrow as they scored not one, but two bulls eyes. Betsy and Blake also perfected their shots – just take a look at their proud faces!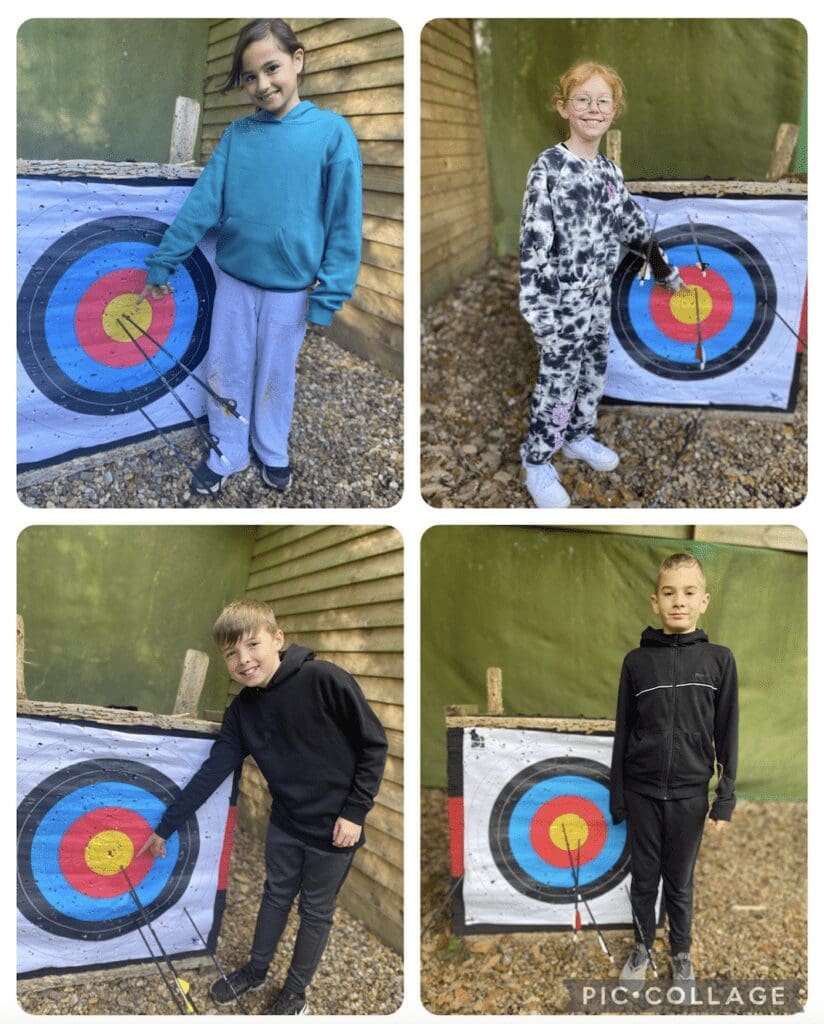 Probably the most exciting activity of all is the giant swing; the group who tackled this today all loved it and made it to the top. Phoebie, Leon and Cameron were prime examples of children whose smiles could not have been bigger on their descent from the very top.
It would be hard to say which activity Rosie has most excelled in; she is simply incredible in her ability to tackle very single new challenge with both skill and aptitude alongside buckets of enthusiasm.
Wednesday 19th October – 5:50am
There has not been a sound from any of the children all night and all remains silent! I had to smile yesterday when one of the children asked me how they had been woken that morning – they clearly had absolutely no recollection of the knock on the door, the lights going or our morning greetings. I am guessing today's wake up call might take longer as the children were so very tired after their long day of activities yesterday.
Breakfast today is at 7:25 again. After that, two groups will spend the morning raft building and enjoying the tunnel trail whilst the other group tackles the popular (but terrifying!) giant swing followed by archery. This afternoon activities include: rifle shooting, sensory trail, archery, Jacobs ladder and trapeze.
We really are so lucky to be enjoying the week with such a wonderful group of children; they really are a pleasure to spend time with as they are polite, enthusiastic and lots of fun.
Tuesday 18th October – 10:10pm
Wow! What a fantastic day we have had. Despite being fast asleep when we knocked on their doors at 6:40am, everyone got up with a smile and was ready for breakfast at 7:25am. Gosh, what a lot these children can eat – we literally seem to eat all day long. Breakfast included sausages, beans and hash browns alongside unlimited cereal, toast, fruit and yogurt.
This morning, we all enjoyed a hike together – five miles in all. Games were played along the way – ninja squirrels was a particular favourite for which Nathaniel showed a natural aptitude. We really couldn't have asked for a more beautiful morning. Sebastian's passion for all things nature was an absolute delight – his pockets were full to the brim with his finds by the end of the walk.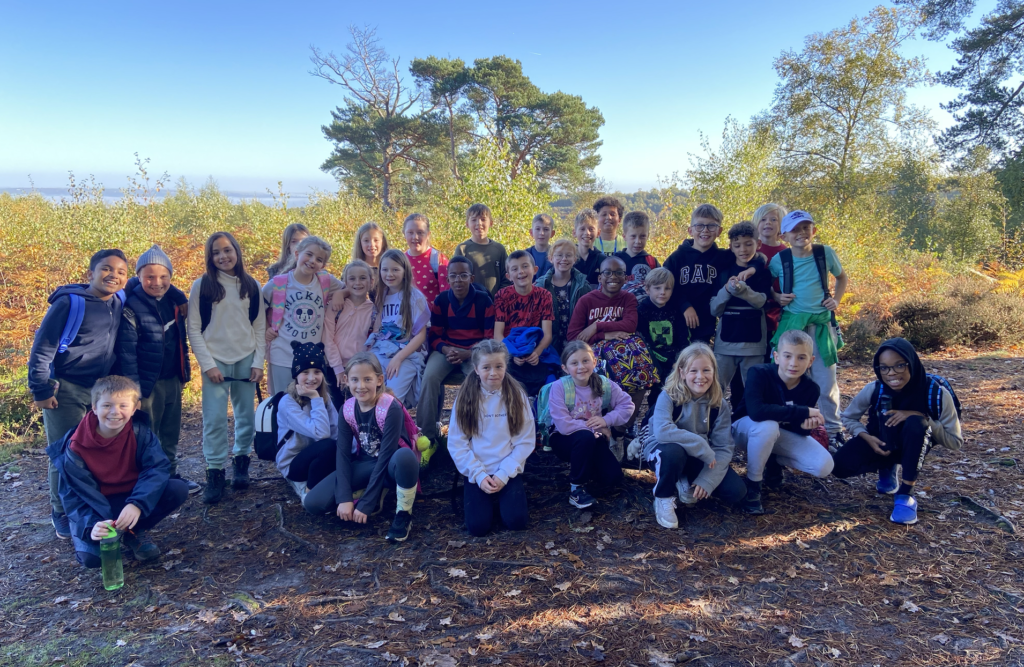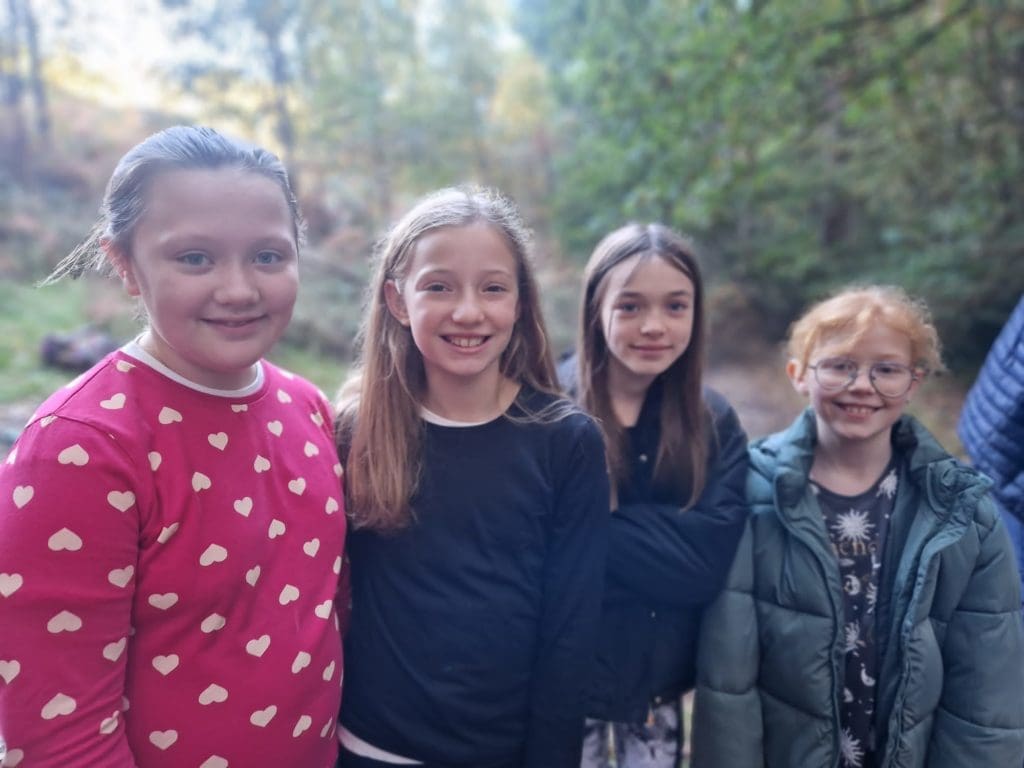 After a hearty lunch of hotdogs, a choice of sandwiches and potato wedges, the children enjoyed a visit to the shop.
This afternoon activities included Jacobs Ladder, Raft Building, Archery, Sensory Trail and Trapeze. Jacobs Ladder is such a tough challenge however Isla and Jessica made it look easy. They worked as a team to get to the very top – a very impressive achievement. Max, Alfie and Joel were also incredible and demonstrated excellent teamwork. A special mention should also go to Mrs Holmes who was supported in her ascent by Nyah and Mia. Great work girls!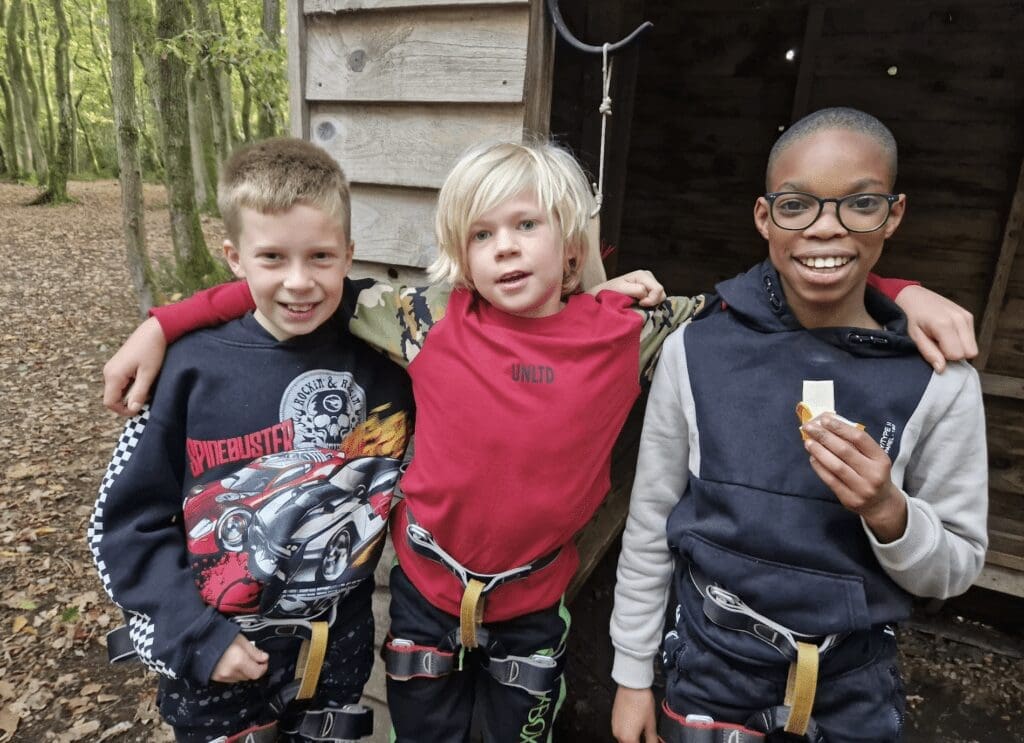 Raft building was simply amazing, the sun shone, the raft floated, the team paddled and everyone fell in – much to Ray's delight. His smile has never been bigger! We probably have Jack to thank for the success of the raft as his knot tying skills literally held the vessel together.
When it came to archery, Poppy-Belle demonstrated a keen eye and natural talent as she scored a bullseye. Good communication skills were essential during the sensory trail – LJ and Lily-Anne led the team really well. Throughout the day Harry has consistently put a smile on our faces and proved himself to be a supportive and thoughtful team member.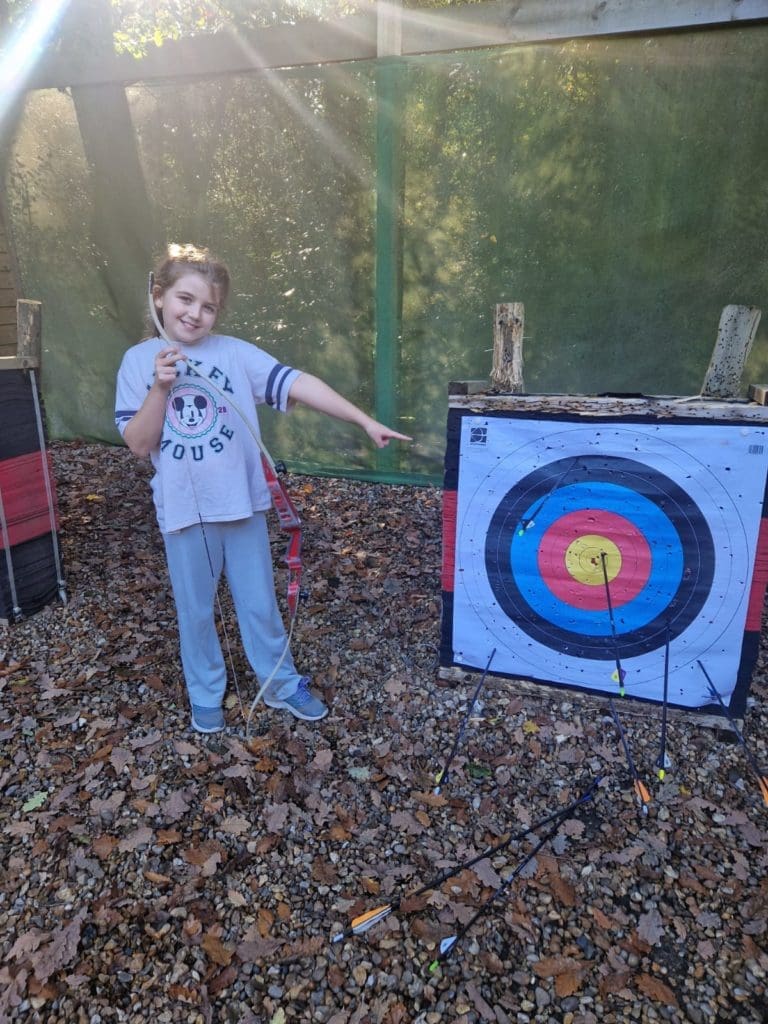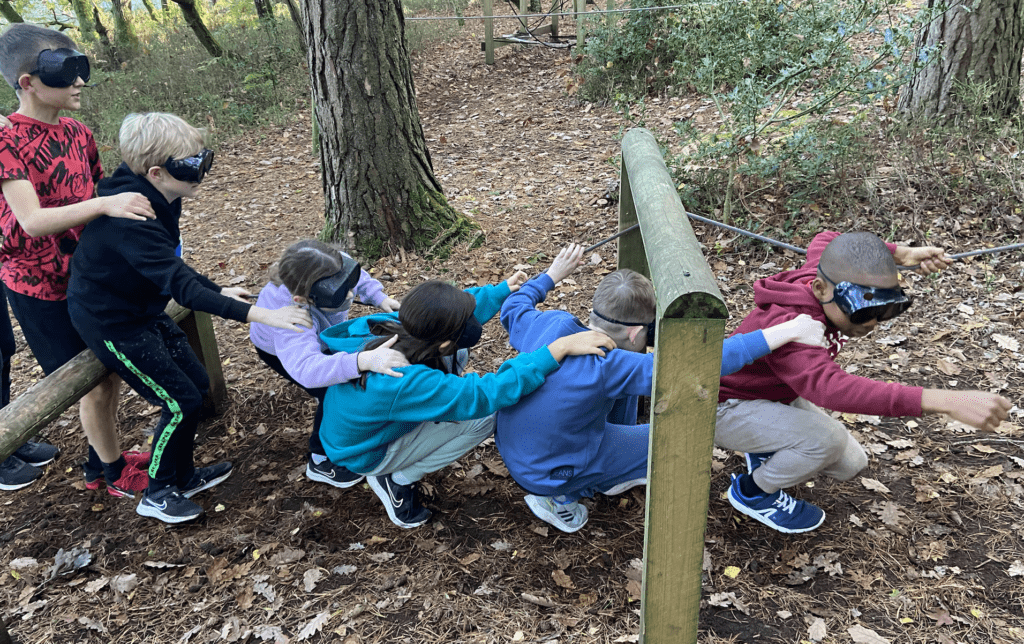 Oh my goodness, trapeze – what a way to finish the day! Both Tate and Mrs Avis really pushed themselves out of their comfort zones. Well done Mrs Avis for getting to the very top and Tate, well … her determination was simply inspiring as she completed the challenge not once but twice. So brave.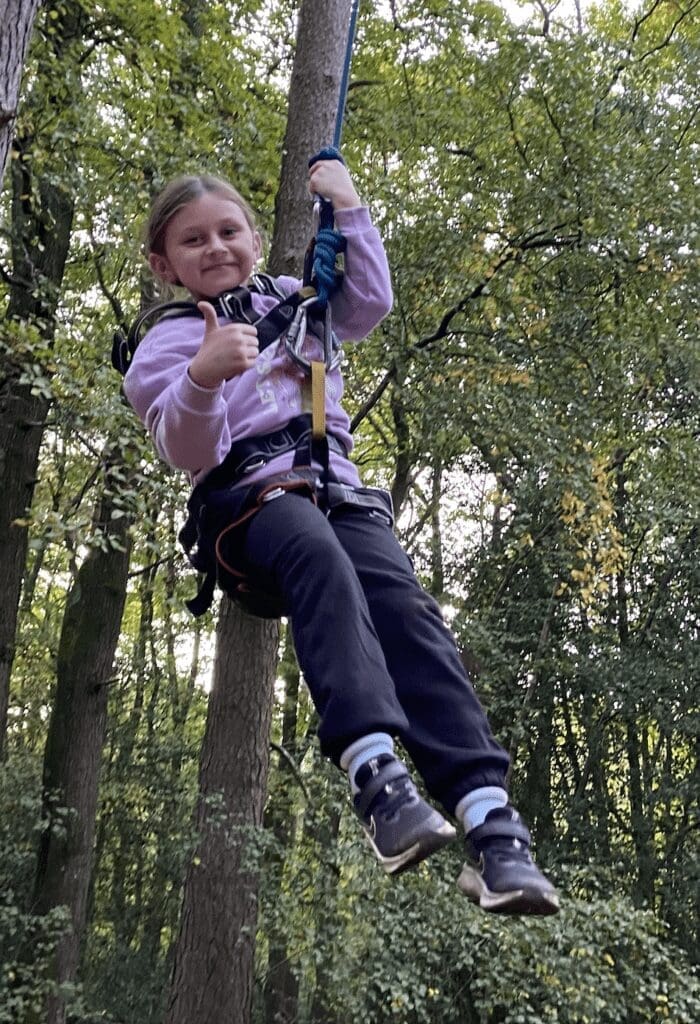 Our day ended with many fun songs and stories around the campfire. The children were treated to s'mores before returning happily to their rooms and settling quickly to sleep. Everyone is tired tonight!
Tuesday 18th October – 5:40am
All is quiet down the Aston corridor. Breakfast is at 7:25am which means an early start each day for us all – we will be knocking on doors to wake the children at 6:45am! I suspect that, by this evening, they will be begging us to let them go to bed!
This morning, the whole group is off on a hike which will, no doubt, be full of games and fun along the way. After lunch, we will split into our three activity groups. Activities will include: the mighty Jacobs Ladder, raft building, sensory trail and the trapeze.
Our first full day will end with a campfire in the evening. In our next post, we will be able to share the highlights of our day.
We are so proud of the children for settling and getting some sleep – for many of them it is their first time away from home so being fast asleep with their friends is their first big achievement of the week. Well done Years Five and Six!
Monday 17th October … bedtime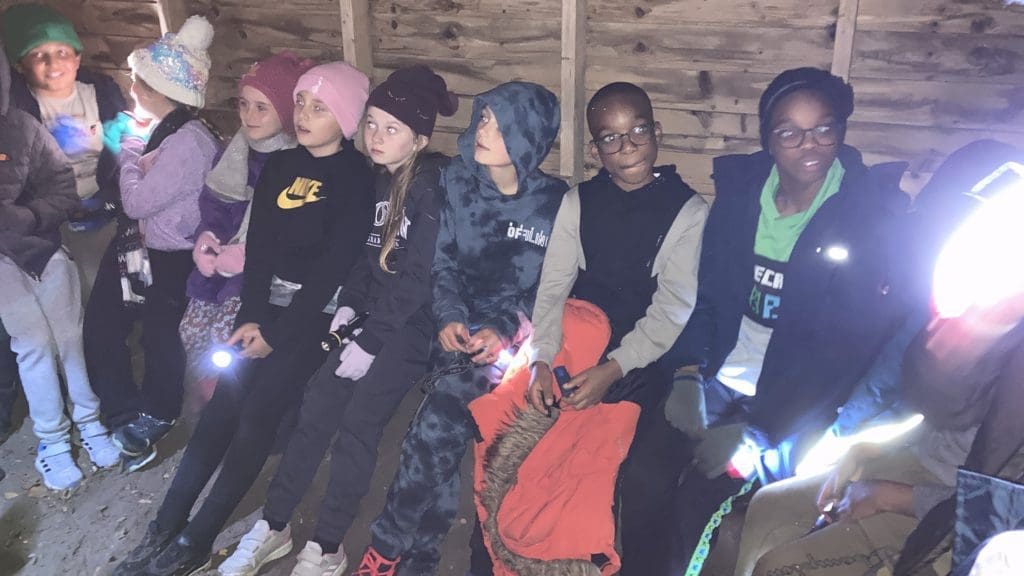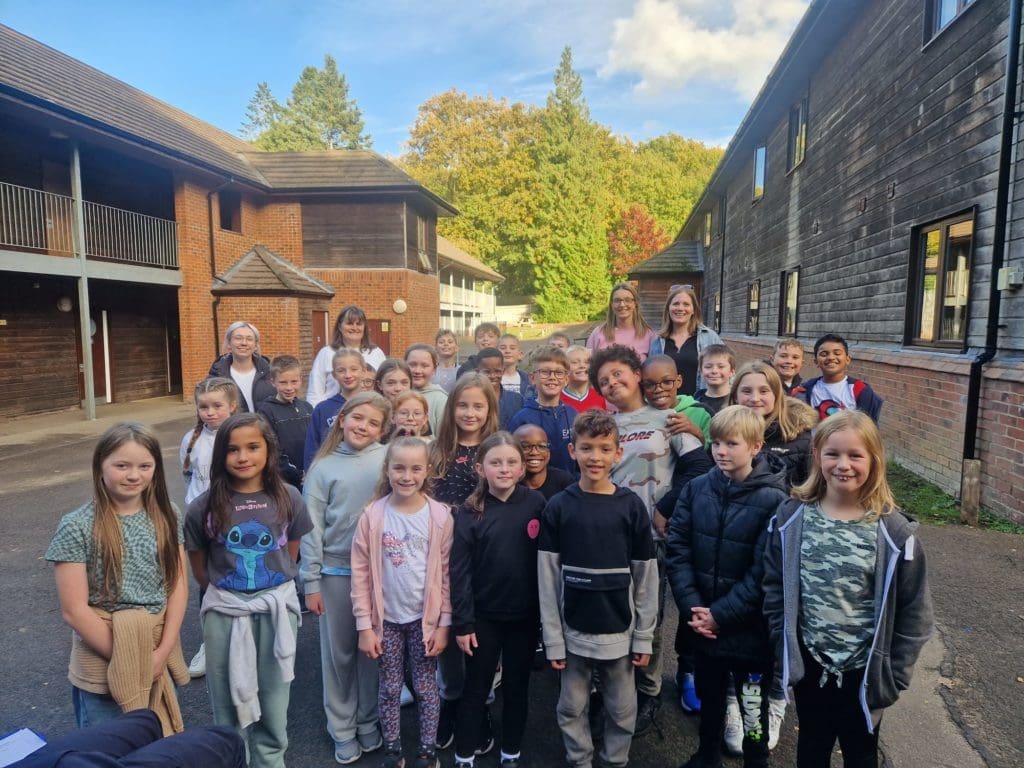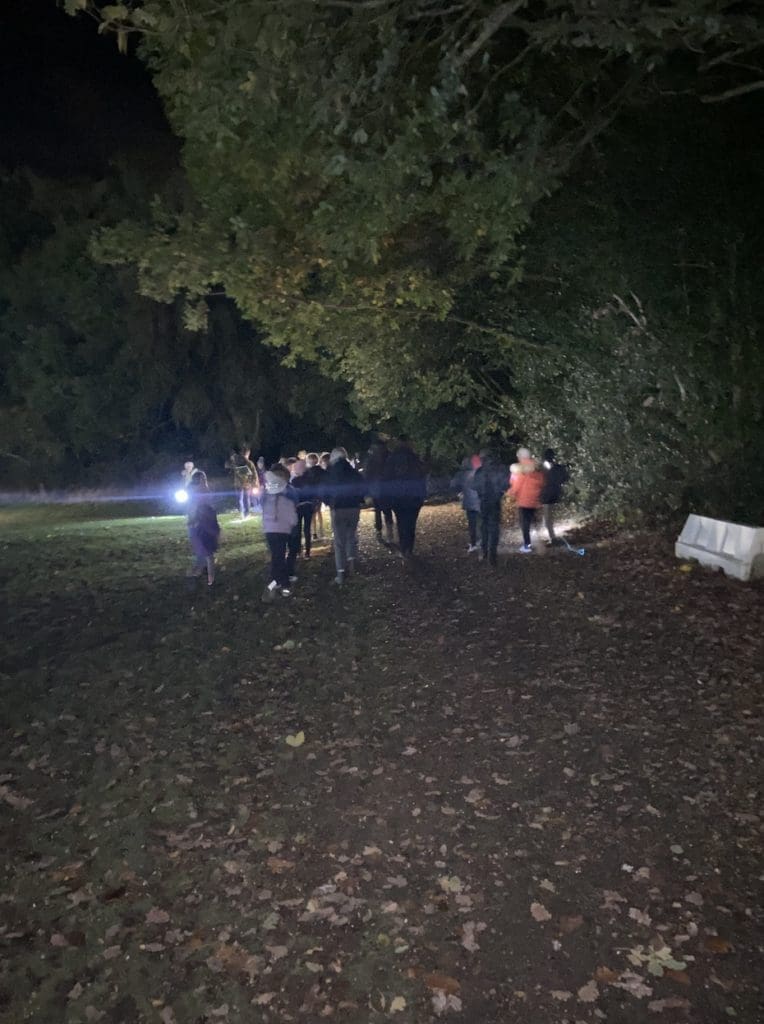 What a lot of fun we have had this evening! We played ambush in the woods. You would never believe that a group of 15 children could stay completely silent in complete darkness whilst huddled on the forest floor – all to avoid being spotted by the opposing team armed with torches! Thank you to all the parents for your generous donations of snacks – they were much appreciated before bed. The children are just settling down now to get a good sleep (fingers crossed🤞) before a full day of activities tomorrow.
16th October: One more sleep! I hope that you are all excited about our week of fun and adventure ahead! Just a few quick reminders whilst you are packing. Firstly, you might not have needed your warm hats, gloves and scarves yet this year but it would be a really good idea to bring them along as the evenings outside in the woods can be very cold! Please remember to bring a water bottle (you will be able to refill this when needed during the week). Also, don't forget a torch – you'll need this for our games in the woods and it could also be handy in your room too (spare batteries are also a great idea). Your waterproof coat is essential as we will be outside whatever the weather – at the moment the forecast looks dry for the first couple of days but there could be rain later in the week. Please remember to pack in your bag a stamped addressed envelope and paper (or postcard) and pen/pencil as you will be writing a letter home on Tuesday. A first class stamp is a good idea as it would be good if your letter were to arrive home before you do!! Finally, please arrive at school between 12:45 and 13:00 tomorrow and make sure that you have already had your lunch. If you need to spend the morning in school, this is fine too – in which case you need to either bring a packed lunch or order a school meal. We can't wait to see you tomorrow!
12th October: Only five more sleeps until we set off on our week of fun! Should you have any queries over the weekend, please contact us via Seesaw. Just in case anyone needs it, here is the information letter that was included in your packs given out at the meeting. The kit list is also included – please note that I have removed the comment from the bottom of the list about challenge course on Friday morning as this no longer applies.
Thank you for attending the meeting on Thursday where we shared information about our forthcoming trip to PGL. If you weren't able to attend or you have any further questions, please don't hesitate to catch any of us on the playground or make an appointment. Please check back here whilst we are away for regular updates whilst we are away.
Mrs Branagan, Miss Pear, Mrs Holmes and Mrs Avis