Platinum Jubilee celebrations were in full here at Aston. What a delight it was to see all the children having a wonderful time celebrating this historic event! I am sure that many memories were made on this special day which the children shall remember for the rest of their lives.

The day began with a special whole school collective worship. We discussed the meaning of a Platinum Jubilee, waved our Union flags, thought about why Queen Elizabeth is important to our country and the commonwealth and discussed the significance of this special event.
Back in our classrooms, the children spent the morning taking part in many creative and enquiry-based activities to deepen their understanding about the Queen and her Platinum Jubilee.
We all enjoyed the whole school performance of "Dancing Through the Decades" where each class sung a song from the past seven decades of the Queen's reign. We enjoyed singing along to The Beatles, The Spice Girls and local legends Chas and Dave! We were incredibly grateful that the late Chas Hodges' wife, Joan, and his daughter, Juliet, who live in the village of Aston, came to enjoy our performances. We were incredibly touched to hear Joan say that her husband Chas, "would have been very proud".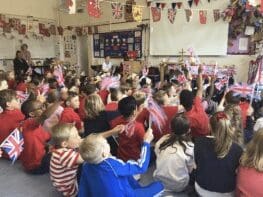 Next, we had a whole school scavenger hunt to find the Queen's missing handbag! Children worked in house teams to find missing teacups, corgis, crowns and jewels – all worth different numbers of points. This incredible day was topped off with a party on the playground complete with games, crafts, music and of course, lots of delicious food!
We know that the Queen has a faith in God that she often talks about. It is wonderful to celebrate Her Majesty and talk about why it is so special to reach a Platinum Jubilee!